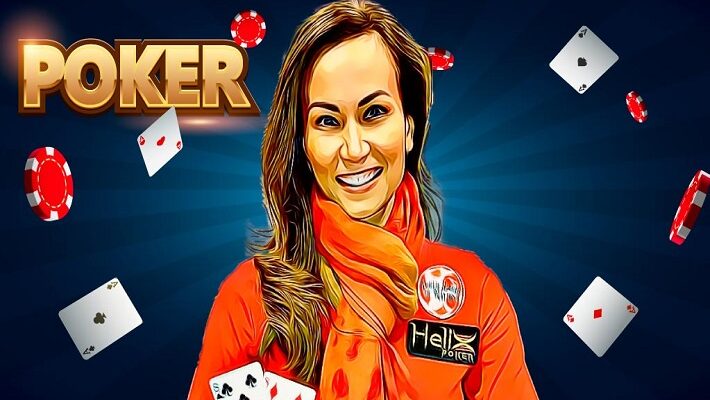 Who says that poker is for men alone, as Lena Evans is here to prove everyone wrong by carving a niche for herself and other women in the world of poker. Evans is the driving force of countless initiatives like Poker League of Nations and Helix Poker that aim to rope in more women into poker gaming. Lena "HelixPoker" Evans is working hard not only to encourage women to play poker at Women Poker Events but also to take part in open poker tournaments.
Besides being a topnotch poker player, Lena Evans is also a businesswoman and philanthropist. For the uninitiated, Poker League of Nations (PLON) is the biggest forum for women who are poker enthusiasts, and with the support of women from across the world, PLON is striving hard, under the leadership of Lena Evans, and to bring more women into the fold to play poker games. Evans' dream is to make poker for everyone, and not just for men. Famous as well as recreational poker players like Maria Konnikova, Ana Marquez, Jami Karstetter, Kristen Bicknell, and more have joined PLON to push the agenda forward and invite more women from across the globe to play poker.
As the co-founder of PLON, Lena Evans, is focused on making it  the biggest and most internationally represented organization in the world for women's poker. With multiple rings and prizes to her name, Evans is indeed the worthiest leader of the women-centric institution for poker.
Born in Saigon, Lena Evans was brought up in the Marina del Ray, California, from the age of five. She mingled with the communities of Beverly Hills, Brentwood, and Bel Air of West Los Angeles, and finally discovered her passion for poker. With time, Evans acquired the status of a professional Blackjack player. She traveled across the world to take part in tournaments and win accolades. She became a member of London Clubs, the posh gaming organization, to play blackjack at the exclusive establishments of London Clubs worldwide. Upon her introduction to poker by a friend, Lena Evans, went on to showcase her skills at poker gaming until she earned the name of high stakes cash game player in the industry.