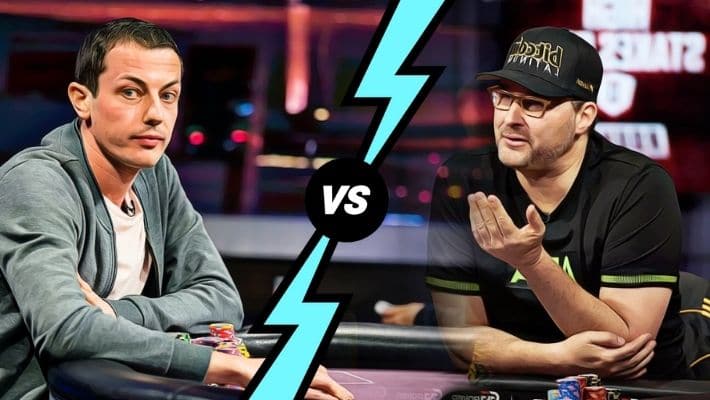 Phil Hellmuth is one of the most well-known personalities in the poker community, and understandably so. The 15-time WSOP winner recently defeated Nick Wright, television personality and radio host, in a 50,000 dollars match. Nick had the option to opt for a rematch with higher stakes, but the player declined, and Tom Dwan replaced him.
On August 25th, 8 pm ET, Phil Hellmuth and Tom Dwan will compete in a high-stakes duel. The players have a long history with several famous encounters. They previously faced off back in 2008 in the NBC National Heads-Up Championship. Dwan was a wunderkind at the time, better known as "durrrr." Dwan defeated Phil with Tens, and the latter criticized Dwan's play. Phil went as far as to state that he will see if Dwan is around in five years.
While the dealer was busy calculating the chips to ensure Phil was out, both players had a verbal feud. Dwan challenged Phil to another match for any amount of stake. However, Phil never took the challenge and instead infamously retorted, "We'll see if you're even around in five years' time."
The times are different as Dwan has made a name in the community. But that does not guarantee a win against Phil Hellmuth. However, the player is on a roll, beating Daniel Negreanu and Antonio Esfandiari in three matches each. Phil is still unbeaten in a High Stakes Duel, and with great confidence, the player is welcoming any competitors.
Phil talked with PokerGO and mentioned how everyone was telling him he would lose to Ivey. The same is happening now that the player is facing Tom Dwan.
The player deems luck to be the primary factor behind his losses against players like Antonio and Ivey. But as things stand, there are not many players willing to go against the 15-time WSOP champion.
With a 100,000 dollars buy-in, the second round of the High Stakes Duel will be intriguing. The loser can end things there or opt for a rematch with 200,000 dollars buy-in.