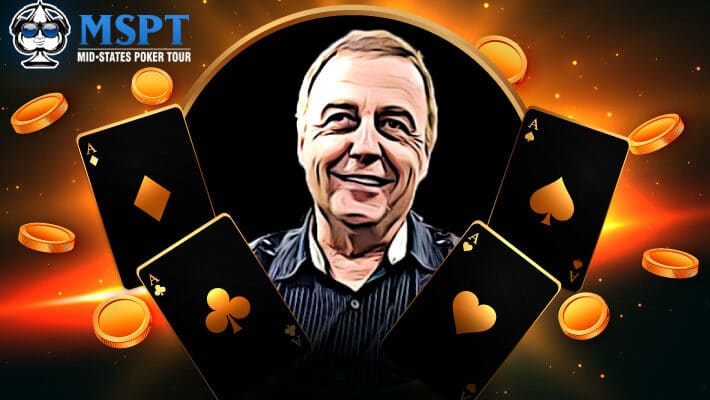 The first four days of the $1,100 Main Event, Mid-Stakes Poker Tour (MSPT) Venetian saw entries around 2790, which led to a $2,692,350 prize pool. But, after ongoing events for a week, it was Harlen Miller, 63, from Bismarck in North Dakota. He bagged the winning spot and got $367,801 back home as a grand reward.
Miller states that he began playing poker only a year back, and since that time, he racked up around $200,000 towards earnings. Post winning the game, he mentioned that he skipped his niece's wedding to play at this event.
Event Update
Day 2 of the event saw plenty of entries, including 396 aspiring players looking forward to winning. Unfortunately, Faraz Jaka and Joe Cada were the two players who were unable to grab the winning prize money. Over time, the field saw a rapid decrease. Mike Dentale, Catherine Dever, Michael Rocco, and Mike Shincashed.
The third day started with 15 players and ended with the final table after Level 2. The very first player to lose after going all-in with queens preflop was Aaron Massey. He lost to Jimmy Lujan, who is known as an ace-queen player. However, Lujan, who had the most chips in the final eight, was the next to go after playing against Ryan Dodd many times and losing every game.
Jonathan Tamayo, Thong Tran, and Bobby Noel fell short, moving ahead to the final table. They got eliminated soon after.
After jumping all-in preflop with queens against Dodd's pocket tens, Knafo, who had a chip lead, got eliminated in the third round.
Dodd started the heads-up game with a significant lead against Miller. Then, Miller overtook the chip lead post doubling on two different preflop events through Dodd.
Miller pulled off the incredible move after going all-in preflop with queens and holding up against Dodd's ace-jack.