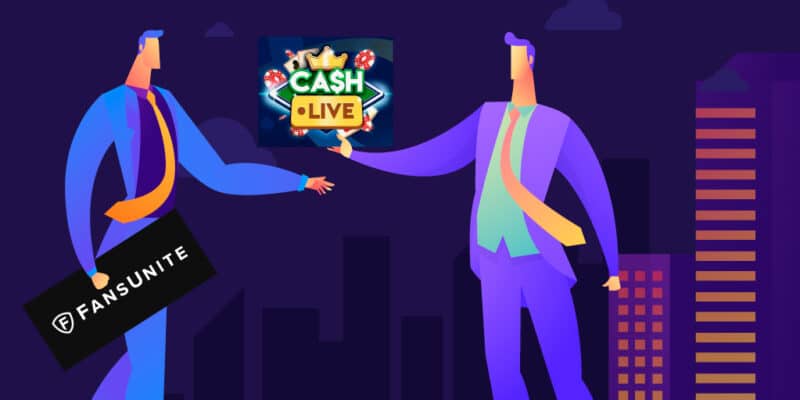 Leading sports and entertainment company that provides technology related to regulated and lawful online sports betting, FansUnite Entertainment Inc. has entered a crucial brand collaboration with Cash Live, a popular live-streaming portal for poker lovers.
The first of its kind branded product from FansUnite will be unveiled on Wednesday, May 12, 2021, at 6:00 pm PT and will play down to a winner within less than 20 minutes. The deal will allow FansUnite to launch its live casino games on the Cash Live mobile application with a seamless gaming experience. The Vancouver-based iGaming firm FansUnite will hold a minority interest in its new partner entity, Cash Live. The users will have complete access to a variety of gaming products and services that will give them an incredibly entertaining and potentially rewarding experience.
Talking about the partnership, CEO of FansUnite Scott Burton stated that the team is very pleased to collaborate with Cash Live, it being such a promising startup. The team is confident that Cash Live has the strong potential to emerge as a dominant player in the online poker market. The companies will work together to expand the betting industry.
Cash Live works as a convenient gaming channel app that allows users to participate in exciting poker tournaments without any costs. The mobile app streams daily events with real cash earnings for players. It has an impressive team of investors which includes the likes of Phil Hellmuth and Kevin Martin along with senior officials of Reddit, Paradise Poker, Snap Inc., etc. The team completed its Snapchat Accelerator program with immediate success and soon switched to its launch on iOS devices in different countries like the USA. It organizes live games every week two times a day at 3:00 PM and 6:00 PM PT respectively. The firm is now preparing itself for a launch on Android within the next month.
FansUnite offers high-quality products for the gaming industry. The company aims to collaborate with top-tier firms to revolutionize the casino and gambling business.