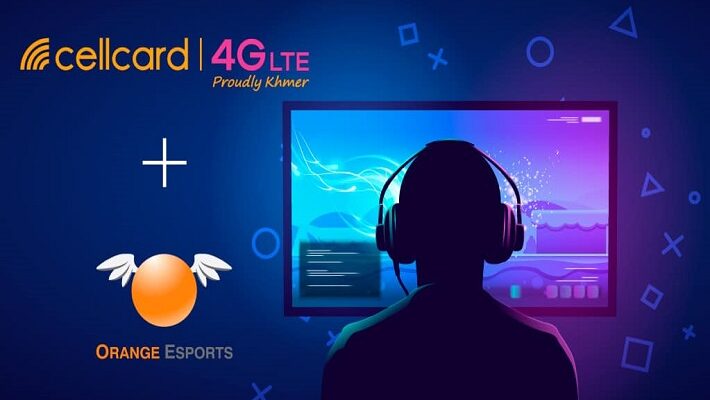 The foremost 4g mobile network carrier of Cambodia, Cellcard, declared about its association with the organization, Orange Esports, and partnerships with leading game developers like NetEase Games and Moonton to attain more recognition on an international scale by making gaming and playing through Cellcard internet more seamless. Orange Esports is one of the most popular teams of Khmer that takes part in PUBG Mobile competitions. Moonton is the creator of legendary mobile games like Bang Bang, and NetEase is the maker of the popular shooter game, Rules of Survival.
The CEO of Cellcard, Ian Watson, said that the 4g network of Cambodia, that is Cellcard, is the widest and fastest network that has acquired immense national and worldwide renown by winning six Ookla Speedtest Awards and achieving several more wins from Open Signal, including the most prestigious award of Best Gaming Experience, 2020. The CEO seeks to make entertainment and gaming on the Cellcard network smoother and more dynamic for the thousands of subscribers of Cellcard. With the help of the partnerships, the CEO hopes to connect the young generation of Cambodia to the gaming industry of the rest of the world. With bigger plans to introduce the 5G network as well, Cellcard will keep on investing in the regional industry of games and esports to expand globally and attract more clients.
The partnership will enthuse Cellcard to create novel content for PlayGame, and then sponsor the ongoing events of the KH Cup Season of the Rules of Survival game. Cellcard is also working in association with a group of local influencers to gravitate global attention toward the PlayGame and the platform's diligent esports gaming initiatives. Currently, the subscribers of Cellcard are looking forward to taking part in the PlayGame Streamathon that will be hosted on the platform of PlayGame on 14th August.
Apart from making lucrative investments in the games and esports industry, Cellcard is also striving hard in the creation of tournaments for professional as well as amateur players, in association with Esports Federation of Cambodia. This partnership is like that between Cellcard and NetEase and Moonton, which was executed in 2018. The President of Esports Federation of Cambodia, H.E. Chea Chan Boribo, announced that EFC is now working in close association with Cellcard to host virtual events and competitions through the live stream as well as on PlayGame platform, powered by Cellcard. In this context, it has been reported by Esports Insider that even though Southeast Asia has a lively esports scene, Cambodia seems to be lagging, and as such the partnerships of Cellcard will certainly help to boost the esports industry of Cambodia.