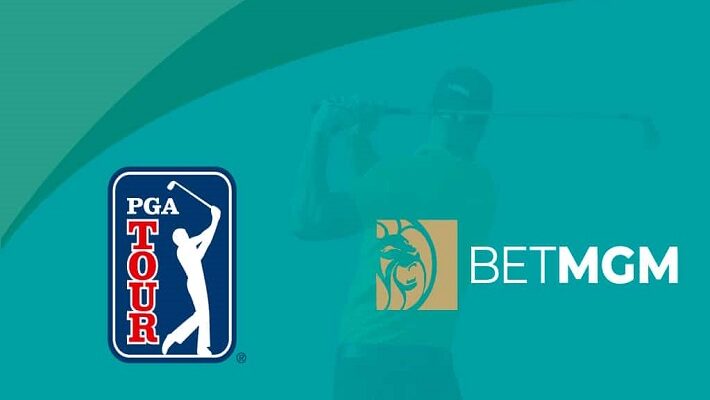 BetMGM and PGA TOUR declared their marketing association and multi-year content and officially announced BetMGM as the betting operator of the PGA TOUR. BetMGM and PGA TOUR signed the multi-year marketing and content deal and announced the partnership on Monday. As a part of the Official Betting Operator program of PGA TOUR, BetMGM is now vested with the right to use PGA TOUR marks in the United States and advertise on TOUR partner platforms through TOUR media outlets. BetMGM will also have access to video and content rights that will enable the BetMGM Sportsbook platform to host pregame and postgame betting events. BetMGM will also have the right to distribute highlights among the players who place bets within the partner platforms.
The PGA TOUR Senior Vice President, Media, and Gaming, Norb Gambuzza, states that BetMGM is associated with premium brands, which makes the platform share a deep connection with gold through the sponsorship of different PGA TOUR tournaments and players. He believes that the brand value and resources of BetMGM are an invaluable asset that will boost the sports betting strategy and enable the expansion of the fan-base of the PGA TOUR. With BetMGM by the side, PGA TOUR will be able to attract more golf bettors from across the world and then bask in skyrocketing fame and popularity in the industry of sports betting.
At present, BetMGM holds the license for legal sports betting in seven states of the US, that include Colorado, West Virginia, Nevada, New Jersey, Mississippi, Michigan, and Indiana. The Chief Marketing Officer of BetMGM, Matt Prevost, he is looking forward to working in partnership with PGA TOUR to empower the BetMGM customers to gain more experience. The masterful blend of the advanced technologies of BetMGM and the stellar competitions and players of the PGA TOUR will not only accelerate the position of the TOUR to the forefront. Still, it will advance the whole industry to a newer level as well.
One of the most popular offers of sports betting is that of PGA TOUR, which is currently being provided by the BetMGM sportsbook through a wide variety of platforms. The layers can get access to the platform through Android and iOS apps. The app is highly compatible with different platforms of different operating systems and enables easy betting on the go. The interface offers updated golf betting odds, multiple formats for betting, and better opportunities for more lucrative betting.
BetMGM is already sponsoring PGA TOUR professionals like Pat Perez, Kevin Na, Jimmy Walker, Max Homa, Boo Weekley, Joel Dahmen, and Ryan Moore. PGA TOUR also announced a partnership with DraftKings in the previous week.